We are a family-owned construction company
You may not see our logo everywhere once the job's done. But if you have spent any time in Thunder Bay, you have driven our roads, passed by our residential project sites, and benefited in some way from our work.
Since 2007, Tycon Construction Inc. has built a name for itself as one of the safest and most reliable contractors in Thunder Bay and Northwestern Ontario. Our growing, family-oriented company takes on projects large and small including residential and commercial sitework, and government roadwork.
We employ a tight-knit group of fully certified construction professionals and
specialists with a "never give up" attitude who ensure the job gets done - and gets done right. Our dedicated Health and Safety professionals help ensure our worksites are safe, going above and beyond Ontario Ministry of Labour and WSIB standards.
The fact that we get repeat calls is the greatest testament to our quality and our reliability. Our private and public sector clients choose to work with us again and again because we consistently offer outstanding service, competitive pricing, modern equipment, and knowledgeable, experienced staff.
Tycon can transport jobsites and equipment wherever they are needed in Northwestern Ontario and beyond.
Selected Core Competencies:
Commercial, residential, and industrial servicing
Land clearing and development
Site design and budgeting
Septic tank installations
Project management
Time and material services
Road building and maintenance
Highway construction and reconstruction
Our Job is to Make Sure Your Job is Finished On Time and On Budget
Contact Tycon to find out how we can help you on your next project. We work effectively on any job as the general contractor or as a sub-contractor, providing our specialized services where needed.
Health & Safety
We make health, safety, and employee well-being our top priority. We ensure everyone working on our jobsites are up to date on all safety procedures and best practices before work starts, such as laying down a new roadway.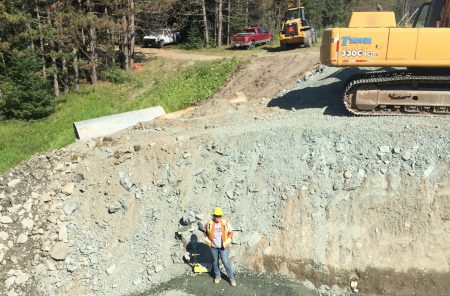 Tycon Construction helps build - and reclaim - Thunder Bay and Northwestern Ontario.